Bird Repeller, BirdAway Supplier
Using our
bird repeller
is an economic, efficient and humane solution for preventing birds from landing on your property. Also, this
bird repeller
is an effective way to help rid your garden of uninvited animal visitors.
Leaven Enterprise Co., Ltd.
's mission, as a worldwide
pest control device
supplier, is to make its key technologies available to its final customers at an affordable price, by matching high quality and a competitive offer, technology and flexibility. With our advance research on day to day needs of consumer, our products are at the front. We are best in the manufacturing of
bird repeller
,
bird repellent
and
bird chaser
.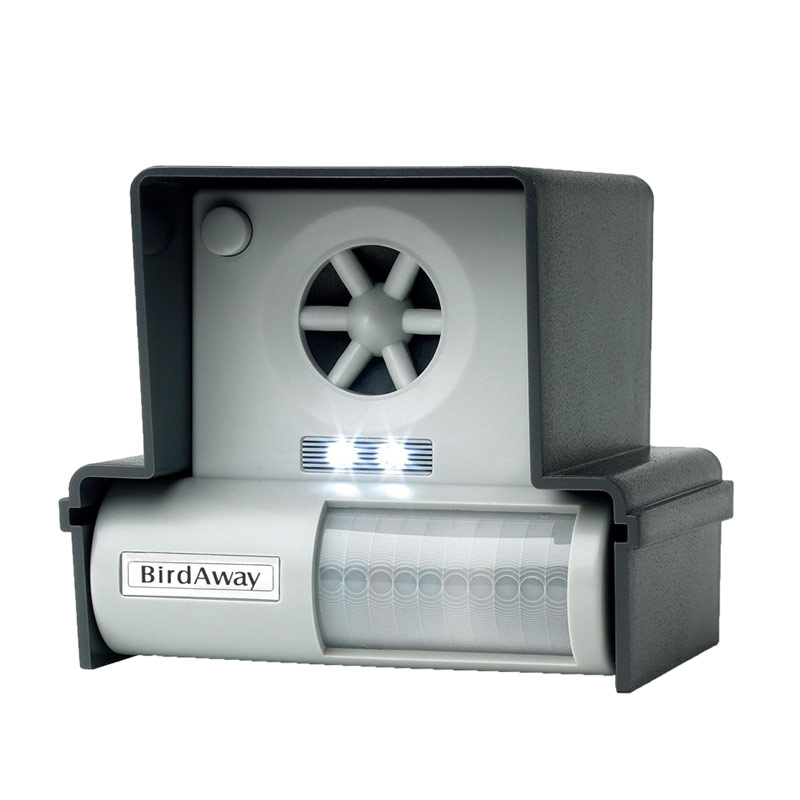 LS-987BF
Ultrasonic BirdAway Model No.: LS-987BF
Electronic Bird Repeller with PIR + Ultrasonic + Flashing Strobes
Keeps pest birds out of your properties effectively and humanely!
Bird Away incorporates a sophisticated PIR to monitor a 3 dimensional fan shape area of 70 degree arc at a distance of 12 meters, equals to 85 square meter of unobstructed space. It will be triggered when intruding creatures are detected. Constant variable sound frequency plus bright light strobes will scare away those unwanted pest birds out of the protected garden and lawn.
Birds Affected:
pigeons
starlings
sparrows
blackbirds
Crows, other pest birds,..., etc.
Features :
Effective and safe
Built-in test button
Weatherproof and maintenance free
Easy to mount on walls, posts, trees, etc.
Harmless to humans and birds
Dual 9V battery operation and optional adapter operation
Non-location limit, protecting area up to 85 square meters
PIR sensor detects and triggers ultrasonic emission and flashlight
Applications :
Gardens
Yards
Ponds to protect fish
Any properties to be bird-free
Specifications :
Dimension: 110 x 100 x 95 mm
Weight:255 g
Power supply:9V (2 x 9V alkaline battery) AC adapter (optional) 220-240 VAC 100-120VAC, Output: 9VDC 200mA
Power:Standby current: 0.16mA Exit delay time for ultrasound: approx. 25 seconds
Warm up time: about 30 seconds
Frequency range:17,000 Hz to 24,000 Hz approx. (randomly and continuously variable)
Protection coverage: up to 85 square meters,
fan shaped area of 70∘(horizontal); 9∘(vertical) at a distance of 12 meters
LED flashing strobe life: up to 100,000 hours
PACKING: 36PCS/CTN. 2.4' (45.5 X 35.5 X 41.5CM)
N.W.: 11.7KGS G.W.: 13KGS.
HS CODE: 854370
This LS-987BF
bird repeller
makes birds stay away from treated areas for good. Our
bird repeller
and
bird repellents
provide effective, cost-effective, humane bird control solutions.
Leaven Enterprise Co., Ltd.
is a preferred manufacturer of
bird repeller
, offers a wide range of solutions and unrivaled customer service for the agricultural, animal & aquatic industries. The animals avoid the area because of its unpleasant ultrasonic sound. The sound is activated when an animal enters the range. We pay attention to the details that matter to you to deliver custom, cost-effective and scalable solutions that contribute to your bottom line.