Bird Repeller Supplier in Taiwan | Leaven @ Altrason
Our
bird repellers
make landing or roosting difficult for the birds, so they will leave that area and find a better place to roost. In addition, this
bird repeller
is ideal to install and place in small areas to block flocking birds away from your house and building.
Leaven @ Altrason
is a well-known manufacturer and supplier of
bird repellers
,
bird repellents
and
bird chasers
in Taiwan. We promise to provide quality products to our customers in a timely manner and at a competitive price. We believe in the future of
bird repellents
and we think it is paramount to enable this technology in a way that maximizes safety, reliability, efficiency, and value.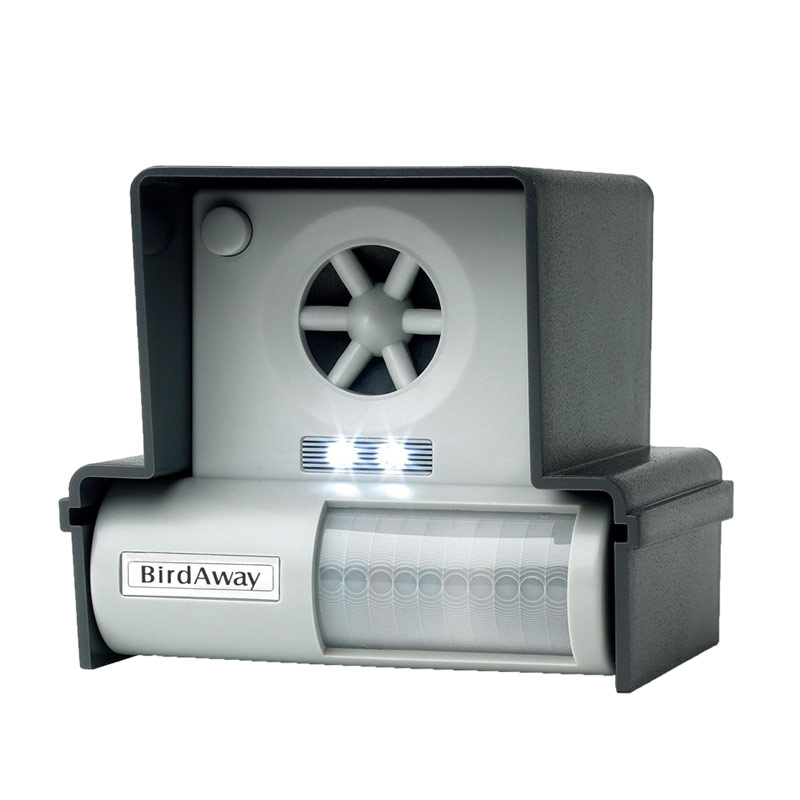 LS-987BF
BirdAway
Electronic Bird Repeller with PIR + Ultrasonic + Flashing Strobes
Keeps pest birds out of your properties effectively and humanely!
Birds Affected:
pigeons
starlings
sparrows
blackbirds
Crows, other pest birds,..., etc.
Features :
Effective and safe
Built-in test button
Weatherproof and maintenance free
Easy to mount on walls, posts, trees, etc.
Harmless to humans and birds
Dual 9V battery operation and optional adapter operation
Non-location limit, protecting area up to 85 square meters
PIR sensor detects and triggers ultrasonic emission and flashlight
Applications :
Gardens
Yards
Ponds to protect fish
Any properties to be bird-free
Specifications :
Dimension: 110 x 100 x 95 mm
Weight:255 g
Power supply:9V (2 x 9V alkaline battery) AC adapter (optional) 220-240 VAC 100-120VAC, Output: 9VDC 200mA
Power:Standby current: 0.16mA Exit delay time for ultrasound: approx. 25 seconds
Warm up time: about 30 seconds
Frequency range:17,000 Hz to 24,000 Hz approx. (randomly and continuously variable)
Protection coverage: up to 85 square meters,
fan shaped area of 70∘(horizontal); 9∘(vertical) at a distance of 12 meters
LED flashing strobe life: up to 100,000 hours
PACKING: 36PCS/CTN. 2.4' (45.5 X 35.5 X 41.5CM)
N.W.: 11.7KGS G.W.: 13KGS.
HS CODE: 854370
These
bird repellers
don't harm animals, but just make treated areas unwelcoming and uncomfortable. We carry some great
bird repellers
that can help prevent and deter nuisance birds in your yard. As a leading Manufacturer of bird chaser, we provide first-rate
bird repellents
that meets specific technical and performance requirements. Our
bird repeller
is illustrious in the market for its perfect designing, flawless performance, cost effectiveness, and other such features. At
Leaven @ Altrason
, you get more than products, you get a dedicated team. If you're in Taiwan and need expert advice from our experienced and knowledgeable staff, please visit our showroom.